Back to Lure Kit Index Index | Back to Catalogue Main Index
LureMaking.com's Sonic In-Line Spinner Kits
Each of these Sonic In-Line Spinner Kits include all the required parts and complete illustrated instructions so that you may quickly assemble these incredible fish catching Sonic spinners quickly and easily. Catches all game fish.
Sonic In-Line Spinner Kits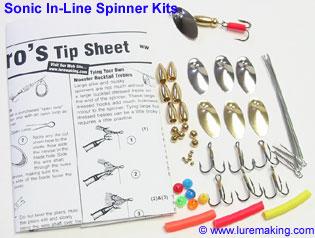 Here's a quick and simple way to start building your own Sonic Spinners and start saving big $$ over those brand name spinners. Everything you need is included in each kit. The only tool required is a pair of needle nose pliers.
Sonic In-Line blades
Stainless steel shafts
Solid brass lure bodies
Solid brass & hollow metal beads
Round plastic beads
Eagle Claw treble hooks
Illustrated instructions
| | | | |
| --- | --- | --- | --- |
| Item Code | Makes Size | Makes Qty | Price |
| 00-05-01 | Size 1 | 9 Sonic In-Line Spinners | N/A |
| 00-05-02 | Size 2 | 7 Sonic In-Line Spinners | N/A |
| 00-05-03 | Size 3 | 6 Sonic In-Line Spinners | N/A |
| 00-05-04 | Size 4 | 5 Sonic In-Line Spinners | N/A |
RELATED ITEMS