EAGLE CLAW L181B BARBLESS BAIT HOLDER - No Longer Available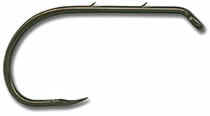 Hooks Not Shown Actual Size
The Eagle Claw 181 Barbless Bait Holder is the most popular hook for harnesses and bait. A great all around fish hook. It holds onto your bait longer. Down Eye. Offset, Laser Sharp! Bronze. Size 4 only!.
Eagle Claw 181B Barbless Bait Holder
Item
Code
Hook
Size
Package
of 25
Package
of 100
59-81B-04
4
SOLD OUT
SOLD OUT
This item will not be re-stocked once sold out.