Back to Eagle Claw Hooks Index | Back to Hooks Index Index | Back to Catalogue Main Index
EAGLE CLAW 181R BAIT HOLDER RED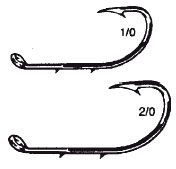 Hooks Not Shown Actual Size
The Eagle Claw 181R Bait Holder is the most popular hook for harnesses and bait. A great all around fish hook. It holds onto your bait longer. Down Eye. Offset, Laser Sharp! Red.
EAGLE CLAW 181R RED BAIT HOLDER HOOKS
Item
Code
Hook
Size
Approx. O.A.
Length
Package
of 25
Package
of 100
Package
of 1000
59-81R-02
2
1-3/16" / 29mm
$4.49
$14.96
$113.92
Limited to existing quantities.
The Eagle Claw 181 Bait Holder RED hook will not be re-stocked one sold out.