New Scale Casting Spoons
High quality painted casting spoons! All casting spoons 0.045" thick. Attach hook and they are ready to use! Use a treble and split ring to assemble your spoons. Retail Spoon Clamshells are also available for the size 4 spoon.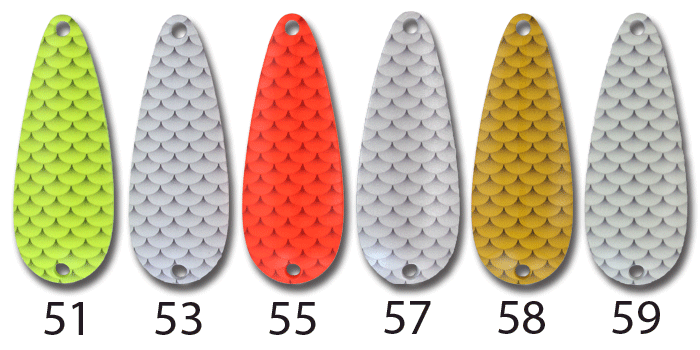 New Scale Spoons w/Nickel Back
(51) Chartreuse New Scale
(53) White New Scale
(55) Orange New Scale


(57) Pearl White New Scale
(58) Mustad Yellow New Scale
(59) Glow New Scale
Item
Code
Size
Weight
Length
Package
of 5
Package
of 25
Package
of 100
449-04-
4
3/8oz
2-1/4"
$5.99
$26.99
$95.96
Recommended Split Ring and Treble Hooks
We stock treble hook in several styles and finishes.
Item
Code
Size
Weight
Length
Use
Split Ring
Recommended
Treble Hook
Recommended
Single Hook
449-04
4
3/8oz
2-1/4"
#5
#4
#1
Related Links