CLASSIC TEX CASTING SPOONS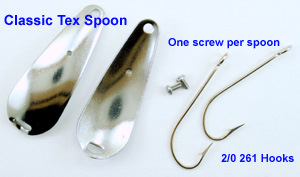 These high quality nickel plated brass spoons (2-3/8") include a screw to attach hook. Use Eagle Claw 261 2/0 hook or when more hooking power is wanted use an Eagle Claw 254 4/0. Add silicone skirt for added attraction. Stamped from 0.045" brass then nickel plated.
Customize with prism tape or paint.
CLASSIC TEX CASTING
One screw included with each spoon. No split ring required as hook is screwed to the spoon..
Item
Code
Description
Weight
Length
Approx.
Weight
Package
of 5
50-85-06
Spoon
3/8oz
2-3/8"
3/8 oz
SOLD OUT
SPOON ASSEMBLY TABLES