Back to Swivels Index | Back to Catalogue Main Index
BEAD CHAIN SWIVELS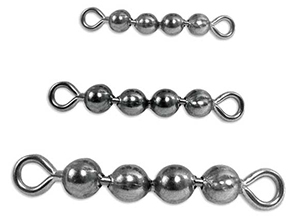 Strong Stainless Steel beaded chain swivels. Four or six balls on each swivel with a fixed ring on both ends. These are excellent swivels for eliminating line twist when trolling or casting large spinners, spoons. These are a must have for any angler using bait rigs for salmon or any other trolling lure which rolls while in motion.
Use these Bead Chain Swivels in Keel Sinker Mold and other trolling sinker molds, also excellent for use as trolling swivels too prevent line twist.
BEAD CHAIN SWIVELS
Item
Code
Size
# of Beads
O.A.
Length
Bead
Dia.
lb. Test
Package
of 50
61-2421
1
4
7/8" (23mm)
1/8"
35
$23.99
61-2423
3
4
1-3/4" (45mm)
1/4"
175
$114.99
61-2422
2
4
1-5/8" (40mm)
3/16"
75
$28.99
Items listed in Red are non-stocked and special order.
Usually take 10-14 days for us t receive most special order items.
RELATED ITEMS