BULK CASTING SPOONS - Smooth and Hammered Nickel Plated
Our most popular casting spoons. Stamped from 0.045" high quality nickel plated steel. These spoons have a nice fluttering action which attracts all game fish. These spoons are available in four popular sizes in either smooth or hammered finishes.
Simply add split rings and treble hooks and paint or add our lure tape to customize these spoons to your own needs. If you require a special colour spoon why not powder paint them. It is really easy to do!
We are often asked why these spoons are so inexpensive? The reason is simple we sell so many that our high volume has allowed us to sell them at low low prices. A extremely high quality spoon at economy prices.
Customize with prism tape or paint.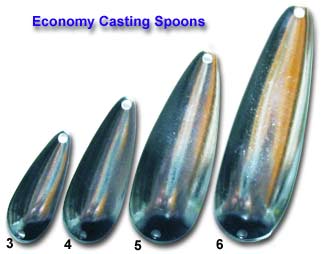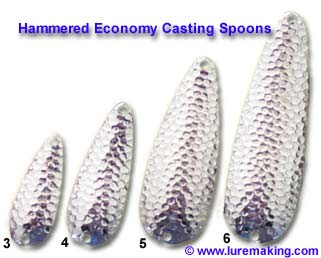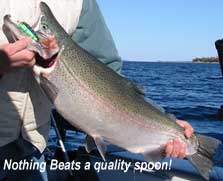 CASTING SPOONS — SILVER FINISH SMOOTH OR HAMMERED
(06) Nickel
(07) Hammered Nickel
Item
Code
Size
Approx.
Length
Approx.
Weight
Package
of 5
Package
of 25
Package
of 100
49-03
3
1-3/4"
1/4 oz
$2.19
$9.99
$35.96
49-04
4
2-1/4"
3/8 oz
$2.69
$12.99
$43.96
49-05
5
2-7/8"
1/2 oz
$4.29
$19.99
$68.96
49-06
6
3-1/2"
3/4 oz
$5.29
$23.99
$84.96
Recommended Split Ring and Treble Hooks
We stock treble hook in several styles and finishes.
Item
Code
Size
Approx.
Weight
Approx.
Length
Use
Split Ring
Recommended
Treble Hook
Recommended
Single Hook
49-03
3
1/4oz
1-3/4"
#4
#6
#2
49-04
4
3/8oz
2-1/4"
#5
#4
#1
49-05
5
1/2oz
2.7/8"
#6
#2
#1/0
49-06
6
3/4oz
3-1/2"
#6
#1/0
#2/0
Related Links