Back to Mustad Hook Index | Back to Hook Index | Back to Catalogue Main Index
MUSTAD 34081 BIG GAME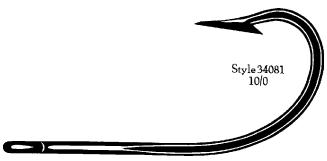 Not Shown Actual Size
This is a tinned saltwater hook. Forged to be tough enough for the big game. May also used for salt water spinnerbaits and extra large musky spinnerbaits. Non discountable.
Use the Mustad 34081 in the larger Spire Point Jig Molds.
MUSTAD 34081 Big Game
Item
Code
Hook
Size
Box
of 100
60-81-10
10/0 #
$79.99
60-81-12
12/0 #
$145.99

# The above hooks are special order. Usually takes between 2-3 weeks for us to receive them.