BAT JIG MOLD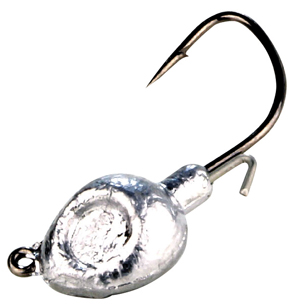 BAT JIG
In a class all its own and aimed at paper mouths slabs near you. The Bat Jig was specifically designed to be fished in thick brush to avoid hang-ups while at the same time providing a superior hook up percentage over other brush pile jigs. Cory "Bat Man" Batterson who lives and breathes crappies was essential in the design and engineering process, and is proud to say this will be the staple of his dipping presentation. The uniqueness of this jig, lies in marriage of the short shank Do-it Wacky hook and superior head design that avoids snagging brush but also makes for perfect roof of the mouth hook ups.
Item Code
Model No.
Collar Style
Hook Style
No. of Cavities
Lure Sizes (oz.)
Hook Size
Price
61-3504
BAT-7-A
Holder
WB400
Wacky 785
7
3/32, 1/24, 3/32, 1/8,3/16, 1/4
6
$74.95
Molds listed in red are special order.
3D Eye Sizes: - Molded 3D eyes
1/32oz - 1/8"
1/24oz - 1/8"
1/16oz - 5/32"
3/32oz - 5/32"
1/8oz - 5/32"
3/16oz - 5/32"
1/4oz - 5/32"
Wire Form - WB400

Spring tempered stainless steel wire form wire to be molded into your jig heads. Packaged per 100 or 1000.
| | | | |
| --- | --- | --- | --- |
| Item Code | Description | Price per 100 | Price per 1000 |
| 61-2609 | Wire WB400 | $12.99 | $99.99 |
RELATED LINKS