Back to Sinker Mold Index | Back to Catalogue Main Index
RIVER SINKER MOLDS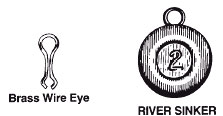 RIVER SINKERS These large donut shaped sinkers are used in rivers, tidal flats, coastal areas and anywhere with strong currents or surf. The low profile and raised outer edges of the River Sinker prevents the rolling or tumbling that can affect other sinker types under these conditions.
Molds listed in red are special order.
Molds listed in Black are always in-stock and ready to ship.

BRASS SINKER EYES Use these sinker eyes with all sinker and lures molds requiring brass eyelets.
Item Code
Size
Approx.
O.A. Length
Price per 100
Price per 500
Price per 1000
61-99-51
1
5/8"
$2.99
$11.99
$18.99
61-99-52
2
3/4"
$4.79
$20.99
$33.99
61-99-53
3
7/8"
$8.99
$39.99
$69.99