Custom and Promotional Casting Spoons
Let Georgian Bay Tackle imprint your corporate logo, club, or derby name directly onto casting spoons. Our multicolor imprinting equipment can reproduce your corporate logo, full colour photo, image, or advertising message, with amazing detail guaranteed to dazzle everyone.
| | |
| --- | --- |
| Custom Casting Spoons | |
Assembled Custom Casting Spoon (completely assembled and packaged in a PVC clamshell)
Custom Casting Spoons are available from our friends at Georgian Bay Tackle
Item
Code
Size
Spoon
Weight
Approx.
Length of spoon
Price Per Spoon
Qty 25-49
Price Per Spoon
Qty 50-149
Price Per Spoon
Qty 150-500
49-04-650
4
3/8oz
2-1/4"
Georgian Bay Tackle
Please visit

Georgian Bay Tackle

They will be happy to assist you.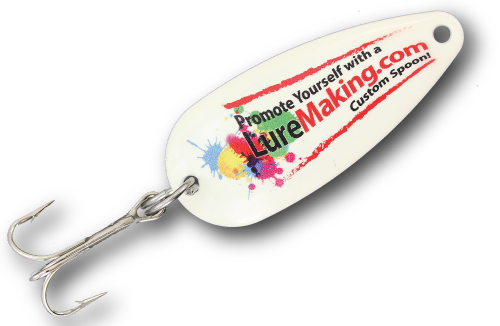 Related Links