Back to Clevis Index | Back to Catalogue Main Index
DUTCH FORK QUICK CHANGE CLEVISES

Plastic Quick Change Dutch Fork Clevis
New and improved! We added a small hook so the blades will not come off unless you take it off. Free spinning, works with all Spinner Blades except #2 Ghost Blade due to weight of the blade. Used only on fluorocarbon and monofilament.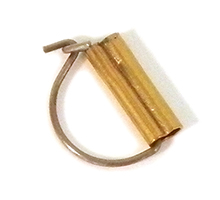 Metal Quick Change Dutch Fork Clevis
Used on wire line ONLY. Our same "No Loss" Clevis with a metal sleeve and same blade clip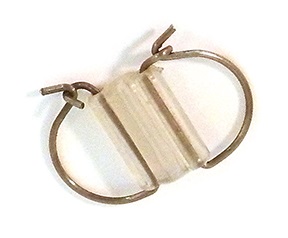 Double Blade Plastic Quick Change Dutch Fork Clevis
Run two Colorado or Willow Blades side by side with our *NEW* No Loss Tandem Clevis, one polymer sleeve and 2 clips. For more color options try using 2 different color blades. Works best with blades size 4 and up. Our Willow Ghost Blades will not work properly with this clevis. Used only of fluorocarbon and monofilament.
Enlarged View -Not Shown Actual Size
| | | | | |
| --- | --- | --- | --- | --- |
| Item Code | Size | Use fo | Hole Diam | 25 Pack |
| 17-00-30 | Plastic Quick Change | Mono Harnesses | 0.0" | $7.99 |
| 17-00-31 | Metal Quick Change | Wire Harnesses | 0.0" | $7.99 |
| 17-00-32 | Tandem Plastic Quick Change | Mono Harnesses | 0.0" | $8.99 |
Related Links