DELUXE CASTING SPOONS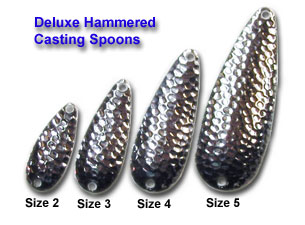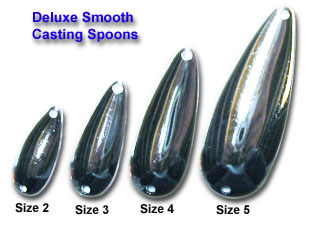 Real Pro's Deluxe Casting Spoons are stamped from only the highest quality marine brass then plated to perfection with high quality chrome plate. These spoons have a nice fluttering action which attracts all game fish. These spoons are available in four sizes. Available in smooth or hammered finishes.
Simply add split rings and treble hooks and use plain as silver spoons or add our lure tape or paint to customize these spoons to your own needs. Our casting spoons are stamped from high quality 0.045" marine brass then chrome plated.
Customize with prism tape or paint.
DELUXE CASTING SPOONS
Brass Base Material
(06) Smooth Nickel
Item
Code
Size
Length
Approx.
Weight
Package
of 5
Package
of 10
Package
of 50
Package
of 100
50-03-06
3
1-3/8"
1/4 oz
$3.99
$6.99
$32.99
$59.98
Limited to existing quantities.
SPOON ASSEMBLY TABLES