Back to Gamakatsu Hook Index | Back to Hook Index | Back to Catalogue Main Index
GAMAKATSU V-EYE JIG HOOK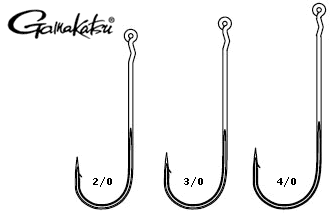 Not Shown Actual Size
This is a premium chemically sharpened nickel plated, Long shank, round bend jig hook specially designed for the Gary Yamamoto Swimming Jig Mold. Needle Point and Very Sharp! Use with Caution! Available in sizes 2/0 thru 4/0.
Gamakatsu #V-Eye Jig Hook Hook
Item
Code
Hook
Size
Package
of 25
60-620-20
2/0
$19.99
60-620-30
3/0
$19.99
60-620-40
4/0
$19.99
Non-Discountable!
Please note this is special order item! Allow 2 weeks for delivery to us!
Related Links