Back to Mustad Hook Index | Back to Hook Index | Back to Catalogue Main Index
MUSTAD SPINNERBAIT HOOK (3406) - Closeout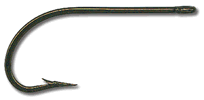 Hooks Not Shown Actual Size
Use these hooks on your extra large musky spinnerbait heads. Mustad 6/0 in bronze. Also see Eagle Claw 254 for larger spinnerbait hooks up to 8/0.
MUSTAD MUSKIE SPINNERBAIT HOOKS
Item
Code
Hook
Size
Package
of 25
Package
of 100
60-07-60
6/0
SOLD OUT
SOLD OUT
This item will not be re-stocked once sold out.
RELATED ITEMS