Back to Weedless Jig Mold Index | Back to Catalogue Main Index
WEEDLESS BULLET BASS JIG MOLDS - L2221 Hook and Mustad 91768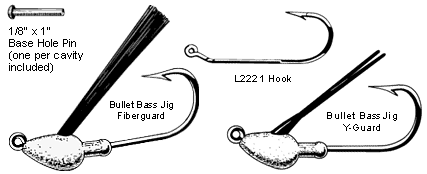 WEEDLESS BULLET BASS JIG

A point tapered bullet type head with the hook eye in a far forward position. Because of these features, this jig tends to slip through weed clogged areas like no other weedless jig. Requires special heavy duty Needle Point L3886 or the premium extra wide gap Mustad 91768 Ultra Point and the designated weed guard.

The mold model BBJ-3-LF mold (item code 61-3251) casts the heaviest weedless jig available - 7/8oz.
| | | | | | | | |
| --- | --- | --- | --- | --- | --- | --- | --- |
| Item Code | Model No. | Weed Guard | Hook Style | No. of Cavities | Lure Sizes (oz.) | Hook Sizes | Price |
| 61-3248 | BBJ-3-AY | FG-30 | L3886 or 91768 | 3 | 1/4, 3/8, 1/2 | 4/0 or 5/0 | $65.95 |
| 61-3251 | BBJ-3-LF | FG-40, FG-40HB | L3886 or 91768 | 3 | 5/8, 3/4, 7/8 | 5/0 | $65.95 |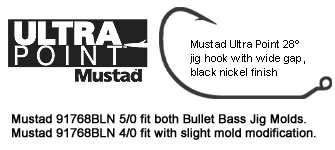 RELATED LINKS