Pearled Dot Casting Spoons
High quality painted casting spoons! All casting spoons 0.045" thick. Attach hook and they are ready to use! Use a size 4 treble with a size 6 split ring. Retail Spoon Clamshells are also available for the size 4 spoon.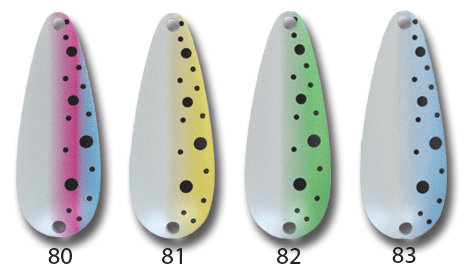 Pearled Dot Spoons w/Nickel Back
(80) Rainbow Pearled Dot
(81) Yellow Pearled Dot
(82) Green Pearled Dot
(83) Blue Pearled Dot

Item
Code
Size
Weight
Length
Package
of 5
Package
of 25
Package
of 100
449-04-
4
3/8oz
2-1/4"
$5.99
$26.99
$95.96
Recommended Split Ring and Treble Hooks
We stock treble hook in several styles and finishes.
Item
Code
Size
Weight
Length
Use
Split Ring
Recommended
Treble Hook
Recommended
Single Hook
449-04
4
3/8oz
2-1/4"
#5
#4
#1
Related Links