THE WAVE CASTING SPOONS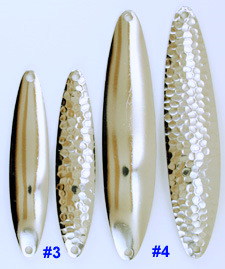 These spoons have a strong reputation for catching large salmon and rainbows for river and pier anglers on the West Coast and the Great Lakes. The 4" size has also caught more than it's share of giant Northern Pike. Add color and flash with a little reflector prism tape.
Simply add split rings and treble hooks and use plain silver spoon or add a little of our lure tape or paint to customize these spoons to your own needs. The nickel plated spoons are stamped from high quality 0.060" carbon steel or 0.060" marine brass then chrome plated. The polished brass spoons are stamped from high quality marine brass.
WAVE CASTING SPOONS - Silver Finish
(06) Nickel (Steel Base)
(07) Hammered Nickel (Steel base) Size 4 only
Item
Code
Size
Length
Approx.
Weight
Package
of 5
Package
of 25
Package
of 100
51-53-06
3
3"
3/8 oz
$5.99
$27.99
$97.96
51-54-
4
4"
1/2 oz
$6.99
$29.99
$106.96
WAVE CASTING SPOONS - Brass Base
(02) Polished Brass
(03) Hammered Brass
(16) Nickel Plate Brass
(17) Hammered Nickel Plated Brass
Item
Code
Size
Length
Approx.
Weight
Package
of 5
Package
of 25
Package
of 100
51-52-
2
2-1/8"
1/4 oz
$6.29
$28.99
$99.96
51-53-
3
3"
3/8 oz
$6.99
$31.99
$111.96
51-54-
4
4"
1/2 oz
$7.99
$34.99
$123.96
Recommended Split Rings and Hooks
SPOON ASSEMBLY TABLES