Back to Swivels Index | Back to Catalogue Main Index
SUPER HEAVY DUTY SWIVELS - Closeout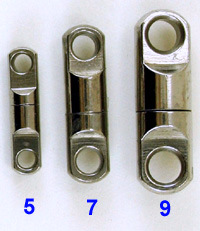 not shown actual size
These super heavy duty swivels are simply the strongest available! Use these when you absolutely cannot afford swivel failure. These swivels will continue to spin freely with hundreds of pounds pressure. A must have for muskie, pike and salt water anglers.
HEAVY DUTY SWIVEL FINISH
Item
Code
Size
Color
Approx.
lb. test
Aprox.
Length
Package
of 25
39-90-05
5
Black or Bright
325
3/4"
SOLD OUT
This item will not be re-stocked once sold out.
Related Items