EAGLE CLAW BARBLESS JIG HOOK (570) 90° Leg Bronze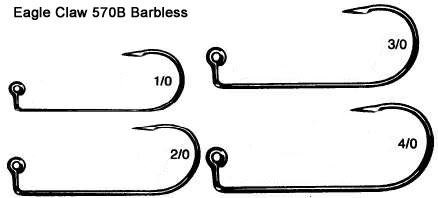 Hooks Not Shown Actual Size
The world's most popular jig hook is now available in barbless exclusively from LureMaking.com. These hooks precisely fit in Do-It molds requiring the Eagle Claw 570 jig hook. This is a light wire Aberdeen hook with a round bend with excellent hooking ability. Bronze! Available in size 3/0 and 4/0.
EAGLE CLAW 570B BARBLESS JIG HOOKS
Item Code
Hook Size
O.A. Length
Package of 100
Package of 1000
Price per 1000
5000 *
59-57B-30
3/0
1-7/16"
$5.29
$32.90
$30.90
59-57B-40
4/0
1-5/8"
$5.99
$33.90
$31.90
*5000 price is mix and match in boxes of 1000!
All hooks must be 570 Barbless Bronze for the price to apply.
Your Volume Discounts apply!!
RELATED HOOKS