Back to Lure Mold Index | Back to Catalogue Main Index
HAMMERED SPOON LURE MOLDS - Molds have been discontinued by Do-it Molds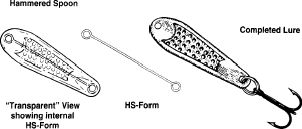 HAMMERED SPOON An attractive hammered pattern to simulate fish scales and gill plates on a proven shad bait fish profile give the Hammered Spoon an illusion of being something that fish recognize as safe to eat. An inexpensive wire HS-Form must be molded inside the lure to give it the necessary fish fighting strength. The lead hammered spoon can optionally be bent to alter its dropping speed and action. We recommend painting with Vinyl Jig and Lure Finish since this finish is flexible. A vinyl finish will not crack or chip if you want to bend the lure after it is painted. Complete the Hammered Spoon by attaching a treble hook with a size No. 7 split ring. Note: This lure must be molded by "ladle pouring" with SOFT LEAD ONLY!
STAINLESS STEEL HAMMERED SPOON FORMS

HAMMERED SPOON FORMS This is an economical internal form, molded entirely inside the Hammered Spoon to give each lure the required strength. Made of stainless steel. Packaged per 100.
Item
Code
Description
Lure
Size (oz)
Price
per 100
61-99-05
HS-34
3/4
$5.49
61-99-04
HS-100
1
$5.49