Back to Lure Mold Index | Back to Catalogue Main Index
VIBRATING LURE MOLDS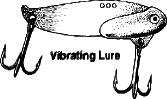 VIBRATING LURE Style ZV Vibrating lures are versatile jigging, casting and trolling lures that shimmy through the water with a vibrating action. The can be especially effective on hard to reach schooling fish. Bait fish shaped and balanced with a "swollen" lead underbelly for stability and a tight wiggle, this proven traditional blade bait style is top choice from river smallmouth to suspended walleye and largemouth bass. Style ZV has been designed with recessed eye sockets to accept 5/32" prism tape eyes or our 3-D stick on eyes.
| | | | | | | | | |
| --- | --- | --- | --- | --- | --- | --- | --- | --- |
| Item Code | Model No. | Insert | Stick-on Eye | Hook Style | No. of Cavities | Sizes (oz.) | Treble Hook Sizes | Price |
| 61-3331 | ZV-5-A | ZB-S, ZM-M | 5/32" | 274 | 5 | 1/4, 3/8, 1/2, 5/8, 3/4 | 8, 6 or 4 | $65.95 |
| 61-3332 | ZV-4-24 | ZB-S, ZM-M | 5/32" | 274 | 4 | 1/4,1/2 | 6, 4, or 2 | $65.95 |
Molds listed in black are in-stock and ready to ship.
Molds listed in red are special order.
BLADE BAITS Blade Baits are a type of lure made with a metal "blade" and used with great success in vertical jigging for schooling fish such as Walleye or Bass. Blade Baits are also used for trolling and casting. Smaller sizes have proven very effective catching Smallmouth Bass. Lures made with "ZB" series blanks have attachment points to offer adjustable balance and vibrations. Fishing line should always be attached to a Duo-Lock snap or such and never directly to the blade itself. Blades are necessarily made thin and could sever the line if a large fish was hooked. Use snaps to avoid this problem. When Nickel plated blanks are used, the lead portion is often just left without finish. Lures made from brass finish blanks should be painted before attaching hooks. Optimum paint adhesion can be obtained if the molded blanks are first "prepped" with a commercial metal preparation or an etching solution of 20% vinegar to water. This will remove oxidation that may have formed on the brass or lead and provide a good surface for paint to adhere. All that is required to assemble blade baits is the addition of double hooks. The open eye of the double hook Style 274 is easily attached by inserting the open eye through an attachment hole in the lure blank. Less expensive standard treble hooks like style 374 require attachment with a split ring size No. 3.
BLADE BAIT BLANKS
Blade blanks for Shad Blade and Vibrating lures. All necessary holes punched. Brass blanks can be readily painted. Nickel plated blanks need only lead molded on and hooks attached. Use the ZB-M blanks in 1/2, 5/8, and 3/4 oz size. Use the ZB-S in 1/4 and 3/8oz size lure. Sold in multiples of 25 blades per size and finish. Use with the Shad Blade mold and the Vibrating Lure mold.
SMALL BLADE BAIT BLANKS
| | | | | |
| --- | --- | --- | --- | --- |
| Item Code | Size | Finish | 25 | 100 |
| 61-23-60 | ZB-S | Brass | $13.99 | $43.90 |
| 61-23-61 | ZB-S | Nickel Plated Brass | $18.99 | $61.90 |
MEDIUM SIZED BLADE BAIT BLANKS
| | | | | |
| --- | --- | --- | --- | --- |
| Item Code | Size | Finish | 25 | 100 |
| 61-23-62 | ZB-M | Brass | $13.99 | $43.90 |
| 61-23-63 | ZB-M | Nickel Plated Brass | $18.99 | $61.90 |