Back to Wires Index | Back to Catalogue Main Index
LureMaking.com's Premium 130lb Test Monofilament Leader Material
This item has been discontinued.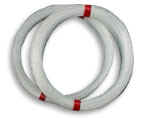 This is the finest leader making Monofilament Leader Material available. Excellent for making your own muskie, pike and saltwater leaders and many other specialty tackle uses. We highly recommend the use of our Aluminum Double Connections Sleeve and our double barrel crimping tool for solid connections to snaps and swivels. Sold in 35 Yrd and 100 Yrd Coils.
Double Barrel Aluminum Leader Sleeves
Use these Aluminum Double Barrel Connection Sleeves with our Monofilament Leader Material.
Item
Code
Size
Inside
Diameter
Use with Mono
lb. test
Package
of 25
Package
of 100
Package
of 500
28-35-01
1AD
1 mm
80 lb Test
$1.79
$4.46
$15.90
28-35-02
2AD
1.2 mm
100 lb Test
$1.89
$4.66
$16.90
28-35-03
3AD
1.3 mm
130 lb Test
$1.99
$4.96
$17.90
28-35-04
4AD
1.5 mm
150 lb Test
$2.19
$5.46
$18.90
RELATED ITEMS