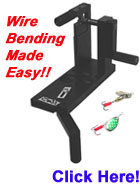 Powder Painting Jigs
Heat the jig by holding it 1 inch above a non-smoking candle flame (must be non-smoking — keep the wick trimmed to about one quarter inch in length) roughly 5 seconds per 1/8 oz. of jig weight.


Once hot, quickly swish jig through light powder paint with side to side motion to cover the entire surface. Do not dip or push jigs into powder paint. Remove jig immediately and tap off any excess powder.


You should see the paint melt, after the excess has been tapped off, if so, you are close to the right heat. If the jig smokes, reduce the preheat time slightly. If the jig appears powdery and dry, increase the preheat time.

Always try to work on the cool side, as it is easy to add a little more heat to melt the paint, rather than having too much paint on the jig to start with. Wait a few seconds for the jig to cool before allowing it to touch anything, the paint hardens quickly. Always keep the powder paint loose and fluffy between jigs.
If the powder paint has not completely melted, after removing the jig from the powder paint, again hold the jig 1 inch above the flame and allow the powder paint to melt completely.
CAUTION: NEVER PLACE THE JIG/LURE DIRECTLY IN THE FLAME OR THE JIG/LURE WILL TURN BLACK.
Other heat sources such as a propane torch, alcohol burner, toaster oven may also be used. If you will be painting a large number of jigs you can preheat them in an oven for 15 minutes at 325°F (160°C).
Next » Powder Painting Spoons & Spinner Blades
---
Skip Ahead:
---