Molds that are not in stock are currently taking 1-2 weeks for us to receive
them from Do-It Molds

CNC - MACHINED ALUMINUM SOFT BAIT MOLDS
Most Soft Bait molds require the use of an injector (item code: 61-91345). The injector is used to inject the heated liquid plastisol into the mold. Open Pour molds do not require an injector as you pour the plastisol into the mold by hand. Special Order molds that are ordered but not taken are subject to a 50% cancellation / re-stocking fee.
CNC Machined Aluminum SoftBait Molds
Choose from over 300 CNC Machined SoftBait Molds. Every mold is precision CNC machined one at a time from a billet of aluminum. LureMaking.com keeps many in stock for same day shipping. Molds listed below will usually ship to you in 7 to 14 days.
All prices are in Canadian Dollars.
Gary Yamamoto Senko Molds
Tail Mold for Senko
Ripper Molds
Trout Worm Molds
Midwest Finesse Mold (Ned Rig)

---

Claws, Tips, Skirts and Tails
Frog & Toad Molds
Grub Molds
Open Pour Molds
Jerk Bait Molds

---

Laminate Plates
Lizard Molds
MO Magic
Gary Yamamoto Senko Molds
Carrot Stick Molds

---

Tube Molds
Craw Molds
Soft Bait Starter Kit
Plastisol
X2 Colorants

All prices are in Canadian Dollars.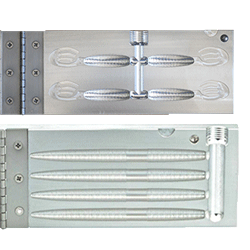 Related Items